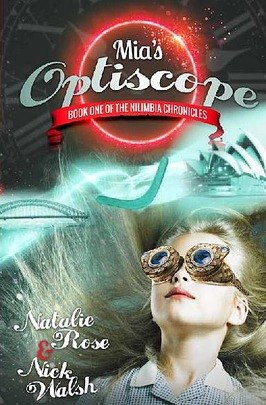 Mia's Optiscope
Author

: Natalie Rose & Nick Walsh
Age :

7 - 13 years
'Mia's Optiscope' is the story of a girl with a big heart and bigger imagination, a story of morality, fantasy, adventure and quest to discover the parallel world of Nilimbia.
Newly arrived in the bustling suburb of Kingsford, in Sydney's east, Mia feels lonely, missing her friends. Walking to school up Meeks Mountain, she makes a new friend and finds herself the Keeper of the Optiscope. Before she can learn its true purpose her mysterious friend is gone, leaving few clues about the Optiscope's powers.
With her grandad's help, Mia uncovers its secrets and the Dream Team embark on adventures to Nilimbia, an awesome world of Dream Weavers and endless magic, where a little imagination and hope makes the impossible possible.
Release date :

29th June 2018
About the Author
Author : Natalie Rose & Nick Walsh
Natalie is an Australian freelance writer, children's book author, illustrator and speaker. Her latest children's book, Mia's Optiscope, is soon to be available in paperback. Her current project, Dream Team Returns, the second in her Nilimbian Dreams series, will be published later this year. Natalie travelled extensively in her ...
READ MORE

ABOUT THIS AUTHOR
There are no reviews of this book, why not be the first to leave us your thoughts
Other books you may also be interested in