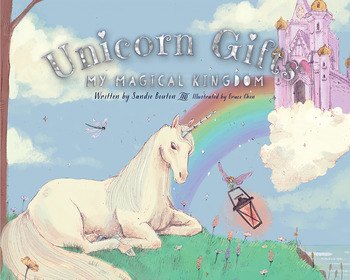 My Magical Kingdom: Unicorn Gifts
Author

: Sandie Bouton
Illustrator

: Grace Chen
Age :

3 - 7 years
'The animals and creatures of The Magical Kingdom are waiting for you. They have beautiful gifts that they wish to share with you ...'

Follow the path through the Enchanted Forest and discover the magical gifts of strength, transformation, wisdom, healing grace and cohesion, as you are guided by the lanterns inside.
About the Author and Illustrator
Author : Sandie Bouton
Sandie Bouton spent her childhood surrounded by animals and creatures, both real and fantastical, and was continually told that she was "o with the fairies" and had an overactive imagination. Sandie continued her love of animals and mystical creatures, especially the unicorn, into her ad...
READ MORE

ABOUT THIS AUTHOR
Illustrator : Grace Chen
Grace Chen is a young illustrator and student residing in Sydney. Her days are spent working at 'If U Like ART' studio in Brookvale, studying Media Arts at UNSW Art and Design, and spending time with her friends. She favours using colourful mediums such as acrylics, watercolours, digital...
READ MORE

ABOUT THIS ILLUSTRATOR
There are no reviews of this book, why not be the first to leave us your thoughts
Other books you may also be interested in