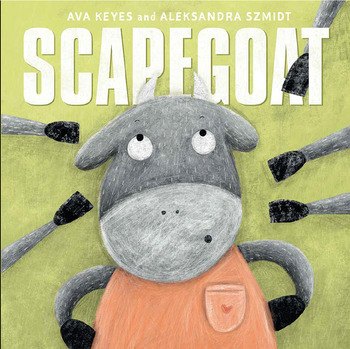 VIEW TEACHERS NOTES
Scapegoat
Author

: Ava Keyes
Illustrator

: Aleksandra Szmidt
Age :

3 - 8 years
Being bullied is never fun, but what do you do when the bullies are at home? 'Scapegoat' is an important story that shows kids how to get help if they need it and how to find strength within themselves.
Release date :

17th October 2018
About the Author and Illustrator
Author : Ava Keyes
Ava Keyes has a Bachelor of Arts in Sociology. Her debut picture book, 'Scapegoat', aims to provide a valuable resource for children experiencing a specific kind of family bullying – family scapegoating. Ava is thrilled to have partnered with Little Steps Publishing in this import...
READ MORE

ABOUT THIS AUTHOR
Illustrator : Aleksandra Szmidt
Aleksandra Szmidt grew up in a town in the south of Poland and currently resides in New Zealand. In Poland, she worked as a graphic designer. Upon moving she decided to pursue her dream as a freelance illustrator. From her home studio, Aleksandra creates one-of-a-kind artwork for clients across the ...
READ MORE

ABOUT THIS ILLUSTRATOR
conveys hope for change, by fostering awareness and assertive action.
This picture book for children « Scapegoat », by Ava Keyes, published at Little Steps Publishing addresses an important, and often overlooked, question that is bullying of children at their home. The author illustrates clear and poignant messages with pictures and dialogues drawn from difficult family interactions. By doing so, she conveys hope for change, by fostering awareness and assertive action.
Ava Keyes draws the readers' attention to an often overlooked phenomenon: parents bullying their children. She shows that bullying does not have to be very obvious, but often can take place in more subtle ways where human diversity is denied and role expectancies implicitly shape the person's identity in limiting and discriminative ways. Also, she demonstrates that bullying can take place where we expect it the least: at home.
Awareness of the individual's underlying experience, often marked by hurtfulness, and the individual's capacity to go beyond the initial, often maladaptive, emotional reaction, towards a more adaptive, and assertive, response, may be the core to a healthy pathway of dealing with bullying. The prompting questions provided in the booklet on empathy training may help foster these processes in children.
All in all, «Scapegoat» is an inspiring and useful support when working with children who may experience bullying, in particular in the family context, but also broader. It may foster emotion awareness and help them to stand up for themselves, as such, it may contribute to tackle the affective roots of bullying, and help prevent long-term mental health problems.
Ueli Kramer, PhD
President-Elect (2019-20) of the European Society for Psychotherapy Research (EU-SPR)
University of Lausanne, Switzerland and University of Windsor, Canada
Ueli Kramer
- 10th September 2019
---
could help teach children that speaking out can have benefits
Firstly, and I personally think that your book is a great starting point to begin to work with children who feel blamed for everything and have no tools to stop this happening.
It does rely, however, on someone identifying the sadness and asking the "right" questions be it a teacher, student, etc. So often I feel that children don't necessarily feel comfortable in speaking out re: being bullied or blamed as they often say it would make things worse and that nothing will change.
Secondly they don't necessarily want to share family issues with others due to potential repercussions.
I think in these cases the work begins in the classroom.
Despite this I believe that you have written a lovely story that could help teach children that speaking out can have benefits, and that it is o.k. to do this.
Margaret Hodge
- 13th April 2019
---
highlighting a problem that rarely is recognized
I have just read the book and it is beautifully written and so important in highlighting a problem that rarely is recognized nor talked about. The bullying that occurs often in families, which usually the victim has no voice and thus rarely recognizes what he/she is going through, much less able to get help.

Fatima Akilu
Psychologist
CVE Expert
Executive Director Neem Foundation
Fatima Akilu
- 12th April 2019
---
Well that's a brave topic to take on!
Scapegoating usually occurs in the context of narcissistic parent(s). I really like the examples at the beginning of the book - very child friendly and relateable. But the idea that a quick chat with the teacher will resolve this issue is not terribly realistic. People (parents) with personality disorders or strong personality traits are unlikely to respond to any feedback, the scapegoat is also serving a useful purpose in terms of buffering problems in the relationship between a narcissistic and enabling parent so the dynamic is very difficult to shift. Most people don't even realise they have been the family scapegoat until well into their adulthood, it's a very passive aggressive/covertly toxic style of parenting.

Dr Rachael Sharman
Senior Lecturer in Psychology
School of Social Sciences
University of the Sunshine Coast
Dr Rachael Sharman
- 26th March 2019
---
Mental Health Resource
An excellent, beautifully illustrated mental health resource which will help scapegoated children feel supported and validated.

Founder of childhoodtraumarecovery.com
David Hosier MSc Psychologist and Educator
- 22nd March 2019
---
"Scapegoat" - the title speaks for itself.
Ava Keyes has beautifully portrayed a great, "need of the hour" message with the help of apt sketches and right choice of words. The best part about the story is that anyone who reads it could easily relate, realize and bring about the much needed change with regards to 'Family bullying' - a subject seldom discussed. Whether the reader is a parent, teacher or a child, there is an important message to take home. The story emphasizes the significance of the role of teachers and school in identifying the problems of students and taking appropriate measures to help them overcome them. One couldn't agree more with the author's message. Overall, Scapegoat is a must-read picture book and should have its space in homes and schools.

Dr. B. Imtiyaaz
School Psychology India.



Thanks & Regards
B. Imtiyaaz
Tamilnadu INDIA
Http://www.drimtiyaaz.com
B. Imtiyaaz
- 21st March 2019
---
Wonderfully complex
Ana Keyes and Aleksandra Szmidt have written a charming, fun and useful book for youngsters about Scapegoating. It is called Scapegoat by Little Steps and follows the life of a little boy called, appropriately, Scapegoat. His family seems ok but he has fallen into the role of functional scapegoat, that is he is blamed for much of the mischief and trouble that happens in the family. His is hardly innocent but the first role of scapegoating is that "victim" is not to blame for being the scapegoat (although something in his behavior may make him "attractive" in that role. But the breakthrough is when his teacher tells his "scapegoating" family that he is well behaved in his classroom, "helpful and brave" and asks them "could you x be blaming him for things that make you mad?"
Things improve from then on including Scapegoat's self esteem. He is finally understood by someone.
The family is the matrix in which children learn about scapegoating and the danger of becoming a victim. BECAUSE VICTIM CREATING DYNAMICS ARE A GIVEN IN ALL GROUPS INCLUDING FAMILIES WHICH CANT MANAGE THEIR INNER PROCESS AS WELL AS THEY AND OTHERS WOULD LIKE, IT'S A GOOD THOUGH DIFFICULT PLACE TO START IN EDUCATION ON BULLYING AND OTHER FORMS OF SCAPEGOATING. This book doesn't try to make the problem just go away or look easy to resolve. It is wonderfully complex but clear about what can happen and how it can change.
I highly recommend this for kids of all ages including adults who want to learn about scapegoating and may not understand how they are contributing to the problem.
Arthur Colman, MD - Professor of Psychiatry , University of California, San Francisco and author UP FROM SCAPEGOATING and the blog DrScapegoat.com.
March, 2019
Arthur Colman MD Professor of Psychiatry
- 20th March 2019
---
Gives kids a frame of reference to understand they are not to blame and deserving of help
As a psychotherapist who helps adults around the world who have been scapegoated by family since childhood, I am so pleased to discover this beautifully illustrated children's book. This is a badly needed resource, as there is so little out there on scapegoating period, never mind resources for children, and the people who care about them. It gives children a frame of reference by which to understand their predicament. In other words, that they are being mistreated and are not at fault, and encourages them to seek help, rather than suffering in silence due to the false guilt and shame that so many abused kids carry.
Sadly, a minority of parents aren't capable of doing their best as they are afflicted with narcissistic personality problems, which they in turn inflict upon their children. And I don't know that there is always someone for kids to turn to who understands the scope of this problem, but it's a start that engenders hope as it reminds teachers and other caregivers of young minds that family bullying is a very real and serious problem that requires public as well as private solutions.

Glynis Sherwood MEd – Therapist & Counselor – Adult Survivors of Family Scapegoating - GlynisSherwood.com
March, 2019
Glynis Sherwood MEd - Therapist & Counselor
- 19th March 2019
---
a moment of validation
The horrifying reality for a scapegoated child is that they know that there is something wrong with their family situation for their entire childhood. However, they can't put their finger on exactly what! They often try to fix the bullying by trying to perfect themselves to make it stop. This leads to a lifetime of shame and guilt which results in people-pleasing behaviours, and issues with self-concept well into adult life, hindering and halting progress. Sadly, victims of family scapegoating don't find out what their family has done to them until they're adults. By this time, too much internal damage has already been done. If somebody could have told me that this wasn't my fault at the age of 6 or seven, it would have saved my self-esteem and would have put my inner critic (which still hinders me) in its place before it became too deep-seated in my psyche. Scapegoat, by Ava Keyes, deals with a very sensitive issue with very simple examples of family bullying which children can relate to and identify easily in their own families. The book itself is very engaging and held both my interest and my children's interest until the end. What an amazing idea for a book! This book of validation should be in every school library. If this book had've been around when I was little, it may have had the ability to partially restore a stolen sense of self.

Billieanne
- 2nd March 2019
---
Please share this book with everyone you know!
This book is precious and so important. Many times, parents who are not coping well with their own lives or feelings will project their emotions onto their children in the ways shown in this story. Young children do not understand projection and internalize the message that something is wrong with them and everything is their fault. These children grow up with crippling self-doubt. Learning to ask for help if this is happening is crucial for healthy emotional development. Please share this book with everyone you know!

Karyl McBride, Ph.D., author of Will I Ever Be Good Enough? Healing the Daughters of Narcissistic Mothers www.willieverbegoodenough.com
Karyl McBride, Ph.D.
- 1st March 2019
---
Can be life transforming
The text is in the form of rhyme and poetry which will really help children to grasp the concept of what a scapegoat is. Even having just one adult believe and validate a child's feelings can be life transforming. Of course the more validation the better but sadly that's not always the case, especially when it doesn't come from your family of origin. Hopefully the family in this story will change their ways, but even if your family doesn't, it is not your fault. Please reach out for help from someone who you think you can trust, it's worth the risk.
Noreen Barron - M.A. Psychotherapy
- 26th February 2019
---
A great story for children as well as adults
First of all, I love the illustrations. They're beautiful and convey all the emotions so well. Family is a place where a child should feel loved, accepted and protected rather than bullied and made a mockery of. In this book, the author has so accurately conveyed the feelings of a child bullied within the family and how help from others uplifts his spirits and he is able to find strength within. A great story for children as well as adults.
Puja Kanth Alfred (Psychologist)
- 15th February 2019
---
Made me cry (the good kind)
This made me cry. I could picture my 7 year old self sitting on the floor of a library aisle reading this, learning that it wasn't my fault that my family bullied me. I feel like my life could've been very different if I'd had this book when I was a child.
Allison
- 28th December 2018
---
Perfect!!
Beautiful story, adorable illustrations, poignant message. This book could be a life-changer for so many unfortunate scapegoat kids that have no one to tell them they are lovable, they matter, and they are not at fault. I couldn't recommend it highly enough!
DURGA
- 28th December 2018
---
The most profound children's book I've ever read
Although largely silent and invisible, family scapegoating is an extremely cruel and harmful intergenerational issue. Behind the quaintest drawings and sweetest rhymes, the message is powerful and clear: social justice starts at home. This unique book has the potential to change lives - little and big ones. I look forward to seeing this book in many languages ending family bullying everywhere.
Silvia Packter
- 12th December 2018
Other books you may also be interested in