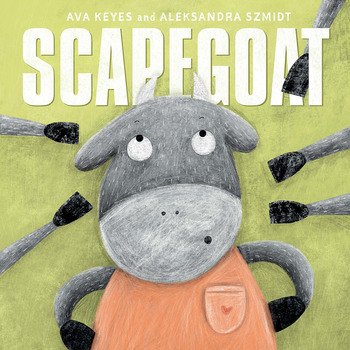 Scapegoat
Author

: Ava Keyes
Illustrator

: Aleksandra Szmidt
Age :

6 - 8 years
Being bullied is never fun, but what do you do when the bullies are at home? 'Scapegoat' is an important story that shows kids how to get help if they need it and how to find strength within themselves.
Release date :

17th October 2018
About the Author and Illustrator
Author : Ava Keyes
Ava Keyes has a Bachelor of Arts in Sociology. Her debut picture book, 'Scapegoat', aims to provide a valuable resource for children experiencing a specific kind of family bullying – family scapegoating. Ava is thrilled to have partnered with Little Steps Publishing in this import...
READ MORE

ABOUT THIS AUTHOR
Illustrator : Aleksandra Szmidt
Aleksandra Szmidt grew up in a town in the south of Poland and currently resides in New Zealand. In Poland, she worked as a graphic designer. Upon moving she decided to pursue her dream as a freelance illustrator. From her home studio, Aleksandra creates one-of-a-kind artwork for clients across the ...
READ MORE

ABOUT THIS ILLUSTRATOR
Made me cry (the good kind)
This made me cry. I could picture my 7 year old self sitting on the floor of a library aisle reading this, learning that it wasn't my fault that my family bullied me. I feel like my life could've been very different if I'd had this book when I was a child.
Allison
- 28th December 2018
---
Perfect!!
Beautiful story, adorable illustrations, poignant message. This book could be a life-changer for so many unfortunate scapegoat kids that have no one to tell them they are lovable, they matter, and they are not at fault. I couldn't recommend it highly enough!
DURGA
- 28th December 2018
---
The most profound children's book I've ever read
Although largely silent and invisible, family scapegoating is an extremely cruel and harmful intergenerational issue. Behind the quaintest drawings and sweetest rhymes, the message is powerful and clear: social justice starts at home. This unique book has the potential to change lives - little and big ones. I look forward to seeing this book in many languages ending family bullying everywhere.
Silvia Packter
- 12th December 2018
Other books you may also be interested in