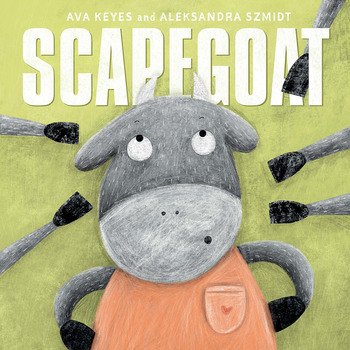 Scapegoat
Author

: Ava Keyes
Illustrator

: Aleksandra Szmidt
Age :

6 - 8 years
Being bullied is never fun, but what do you do when the bullies are at home? 'Scapegoat' is an important story that shows kids how to get help if they need it and how to find strength within themselves.
Release date :

17th October 2018
About the Author and Illustrator
Author : Ava Keyes
Ava Keyes has a Bachelor of Arts in Sociology. Her debut picture book, 'Scapegoat', aims to provide a valuable resource for children experiencing a specific kind of family bullying – family scapegoating. Ava is thrilled to have partnered with Little Steps Publishing in this import...
READ MORE

ABOUT THIS AUTHOR
Illustrator : Aleksandra Szmidt
Aleksandra Szmidt grew up in a town in the south of Poland and currently resides in New Zealand. In Poland, she worked as a graphic designer. Upon moving she decided to pursue her dream as a freelance illustrator. From her home studio, Aleksandra creates one-of-a-kind artwork for clients across the ...
READ MORE

ABOUT THIS ILLUSTRATOR
a moment of validation
The horrifying reality for a scapegoated child is that they know that there is something wrong with their family situation for their entire childhood. However, they can't put their finger on exactly what! They often try to fix the bullying by trying to perfect themselves to make it stop. This leads to a lifetime of shame and guilt which results in people-pleasing behaviours, and issues with self-concept well into adult life, hindering and halting progress. Sadly, victims of family scapegoating don't find out what their family has done to them until they're adults. By this time, too much internal damage has already been done. If somebody could have told me that this wasn't my fault at the age of 6 or seven, it would have saved my self-esteem and would have put my inner critic (which still hinders me) in its place before it became too deep-seated in my psyche. Scapegoat, by Ava Keyes, deals with a very sensitive issue with very simple examples of family bullying which children can relate to and identify easily in their own families. The book itself is very engaging and held both my interest and my children's interest until the end. What an amazing idea for a book! This book of validation should be in every school library. If this book had've been around when I was little, it may have had the ability to partially restore a stolen sense of self.

Billieanne
- 2nd March 2019
---
Please share this book with everyone you know!
This book is precious and so important. Many times, parents who are not coping well with their own lives or feelings will project their emotions onto their children in the ways shown in this story. Young children do not understand projection and internalize the message that something is wrong with them and everything is their fault. These children grow up with crippling self-doubt. Learning to ask for help if this is happening is crucial for healthy emotional development. Please share this book with everyone you know!

Karyl McBride, Ph.D., author of Will I Ever Be Good Enough? Healing the Daughters of Narcissistic Mothers www.willieverbegoodenough.com
Karyl McBride, Ph.D.
- 1st March 2019
---
Can be life transforming
The text is in the form of rhyme and poetry which will really help children to grasp the concept of what a scapegoat is. Even having just one adult believe and validate a child's feelings can be life transforming. Of course the more validation the better but sadly that's not always the case, especially when it doesn't come from your family of origin. Hopefully the family in this story will change their ways, but even if your family doesn't, it is not your fault. Please reach out for help from someone who you think you can trust, it's worth the risk.
Noreen Barron - M.A. Psychotherapy
- 26th February 2019
---
A great story for children as well as adults
First of all, I love the illustrations. They're beautiful and convey all the emotions so well. Family is a place where a child should feel loved, accepted and protected rather than bullied and made a mockery of. In this book, the author has so accurately conveyed the feelings of a child bullied within the family and how help from others uplifts his spirits and he is able to find strength within. A great story for children as well as adults.
Puja Kanth Alfred (Psychologist)
- 15th February 2019
---
Made me cry (the good kind)
This made me cry. I could picture my 7 year old self sitting on the floor of a library aisle reading this, learning that it wasn't my fault that my family bullied me. I feel like my life could've been very different if I'd had this book when I was a child.
Allison
- 28th December 2018
---
Perfect!!
Beautiful story, adorable illustrations, poignant message. This book could be a life-changer for so many unfortunate scapegoat kids that have no one to tell them they are lovable, they matter, and they are not at fault. I couldn't recommend it highly enough!
DURGA
- 28th December 2018
---
The most profound children's book I've ever read
Although largely silent and invisible, family scapegoating is an extremely cruel and harmful intergenerational issue. Behind the quaintest drawings and sweetest rhymes, the message is powerful and clear: social justice starts at home. This unique book has the potential to change lives - little and big ones. I look forward to seeing this book in many languages ending family bullying everywhere.
Silvia Packter
- 12th December 2018
Other books you may also be interested in