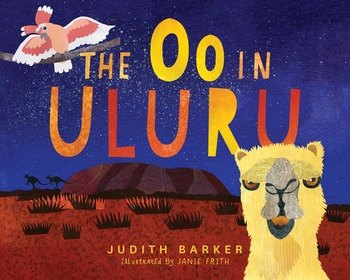 The Oo in Uluru
Author

: Judith Barker
Illustrator

: Janie Frith
Age :

3 - 8 years
This is the story of the 'oo'. It's an amusing sound for all of you.'
The Oo in Uluru is a fun Australian-themed phoneme story that teaches young readers about the vowel sound 'oo' and where they can find it in different words.
Winner of the Australian Speech Pathology Book of the Year 2019 for the 5 to 8 Years Category.
Release date :

1st August 2019
About the Author and Illustrator
Author : Judith Barker
Judith attributes Dr Seuss' fantastical tales about faraway places to her love of writing children's picture books. As a teacher and a linguist, she believes young readers can learn about phonetics through visual language in stories. The Oo in Uluru is the first book in a series of fun A...
READ MORE

ABOUT THIS AUTHOR
Illustrator : Janie Frith
Originally from New Zealand, Janie's childhood was spent in the southern City of Dunedin, where she attended art school and then went on to train as an Art Teacher. Many years were spent inspiring children with her love for drawing, painting and playing with art materials. In 2006 Janie moved...
READ MORE

ABOUT THIS ILLUSTRATOR
There are no reviews of this book, why not be the first to leave us your thoughts
Other books you may also be interested in