Meet Kathy Urban and Lola the Bunny!
July 15th, 2022
We had a chat to the wonderfully talented Kathy Urban! Get the inside scoop on her debut picture book, Hop Lola Hop!

Tell us about Hop Lola Hop!
Hop Lola Hop is a sweet bedtime tale about a curious little toy bunny, Lola, who goes on a walkabout after getting separated from her best friend, a young girl named Ella. As the two friends try to find each other again, Lola also embarks on an unexpected yet fun adventure.


Where did the inspiration for Hop Lola Hop come from?
I like to say that Lola's story is based on real events. The character was inspired by my eldest daughter's favourite stuffy toy, also named Lola, who used to come with us everywhere - to the park, the supermarket, on holiday, you name it. Unfortunately, like many toys do, she'd sometimes go missing, leaving my daughter very upset. We never had a back up toy and instead, I started making up stories about the fun adventures her bunny could be on right now.

Imagining Lola's adventures soon became our unique way of coping as it offered a welcome distraction to the fact that we couldn't find her.

Luckily to this day, the bunny has always made it back home.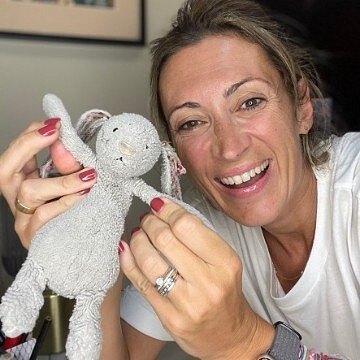 What was your favourite book as a child?
I was a real bookworm, so nailing it down to one is a tricky one. The book, which had the biggest impact on me, is Pippi Longstocking by Astrid Lindgren. I like stories that feature strong memorable characters who question the status quo. And that's what Pippi does. She the strongest girl in the world, which is awesome - but she's also smart, funny, wildly imaginative and caring and she has a strong sense of justice. And then she comes up with the best ideas for play. What's not to like?


What did you enjoy the most about writing a picture book?
We read a lot of picture books at home, which I enjoy a lot because they offer a different way of looking at things.

Writing a picture book also meant I was able to be a kid again, remembering all the little miracles that with the adult glasses on, one often fails to spot.

As parents we often feel pressured to pack more and more activities into our kids every day in order to maximise their experiences.

But being a child also means that you don't really need all of that. You're in fact allowed to PAUSE and instead live and ENJOY the very moment (however long it lasts), to take delight in the small everyday things, those tiny ADVENTURES, which to me makes being a child so desirable.

Many of the scenes in Hop Lola Hop were inspired by some of my kids' favourite activities. From Lola's hopping through to building forts activities in the living room, a lot of it reminded me of what I used to love doing as a child.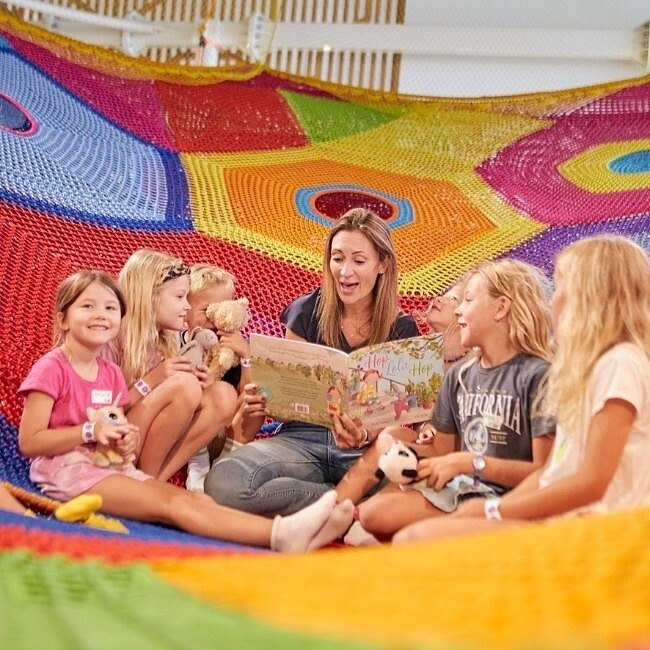 Where do you like to write?
The nice thing about being a writer is you can pretty much work wherever you like, as long as you have a pen, paper or a laptop available. I worked on the manuscript of Lola whenever I had a free moment. Outside in the school carpark, at the cafe whilst waiting for my kids to finish their activities. The majority of my writing, however, was done at home with me sitting cross-legged on the floor in front of a large wall I had covered in sticky notes.

But then, if I had the choice - I'd love to do more writing at the library. I like the idea of being surrounded by the words and works of other storytellers - it's very inspiring (and it's also quiet).


What do you do in your spare time?
It's a 50/50 split between getting creative indoors or being active outside with the family. I love painting so whenever there is a free moment (which is rare these days), I love to grab my oil paints and get lost in my painting.

As a family, we like to spend time at the beach or go hiking. We've got a small group of friends my husband and I go cycling with. It's usually early starters, because the sun can be pretty brutal out here in Dubai. Even though I am not a morning person, I find this to be a great way to start off the day.


What would you like young readers and their caregivers to take away when they read Hop Lola Hop?
A lot of our reading at home is done at bedtime and that really had an impact on how I wrote Hop Lola Hop.


The books that I enjoy reading to my kids the most are those that invite the reader on a journey which they can enjoy looking at and listening to before being gently snugged to sleep.

To me Hop Lola Hop has got all the elements for a good bedtime story. It's a sweet uplifting adventure, which offers moments of joy, comfort and reassurance.


Tell us an interesting fact about yourself

My family often ask me why I didn't write Hop Lola Hop in German - my first language (a tiny fact I sometimes fail to mention because I've lived abroad for so long).

Truth is, I actually did, the very first draft. But even though I enjoyed writing in German at school, most of my professional writing as a journalist has been done in English. I got stuck with the German version, and changing languages was my way out of the writer's block.



Thank you, Kathy for joining us!
You can find Kathy on Instagram @hop_lola_hop and Twitter @hoplolahop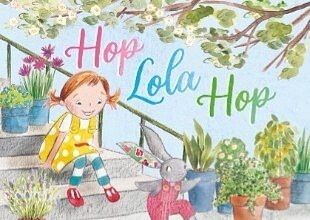 Hop Lola Hop
Lola is a little toy bunny who likes to go on fun adventures. But one day, she Hop! Hop! Hops! ... just a little too far. Ella is a young girl who is heartbroken when her beloved bunny goes missing. How are they going to find each other again? A magical, heart-warming tale about an adorable lost toy bunny and the feelings and emotions that come with losing something special.
PURCHASE HERE
---
Comments (0)
No comments have been submitted yet.
Why not be the first to send us your thoughts
Leave A Comment


Thank you for your comments,
they will appear shortly once approved.