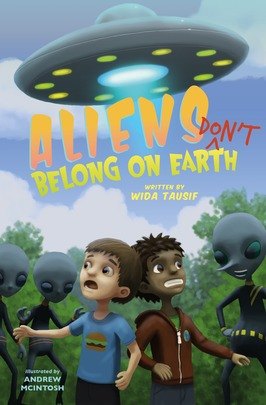 Aliens Don't Belong On Earth
Author

: Wida Tausif
Illustrator

: Andrew McIntosh
Age :

7+ years
On his eighth birthday, James and his friend, Alex, are visited by ALIENS!
These extraterrestrial visitors want to take over Earth, and have a job in mind for the boys.
What will they do to keep their home safe?
Release date :

1st October 2017
About the Author and Illustrator
Author : Wida Tausif
Wida published her first children's fiction in 2015 titled 'Don't Give Up On Your Dreams'. She has been writing poetry for a few years. As a child she dreamt of becoming a writer and it was in Intermediate School that she discovered her passion for writing and this became a goal for ...
READ MORE

ABOUT THIS AUTHOR
Illustrator : Andrew McIntosh
Andrew McIntosh is a part time digital illustrator from Melbourne, Australia. Ever since Andrew can remember, he has had a pencil and paper on hand. He started his artistic career in the video games industry focusing on Pixel art, 3D modelling and UI design. In his spare time, Andrew paints whimsica...
READ MORE

ABOUT THIS ILLUSTRATOR
There are no reviews of this book, why not be the first to leave us your thoughts
Other books you may also be interested in