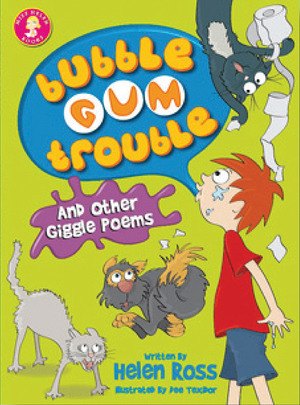 Bubble Gum Trouble and Other Poems
Author

: Helen Ross
Illustrator

: Dee Texidor
Age :

3 - 6 years
There's a lot to laugh about in Bubble Gum Trouble.
Yucky stuff in everyday life like smelly socks and mouldy drink mugs, and funny stuff like cats tangled up in toilet paper and underpants!
Bubble Gum Trouble is a great little book of fun poetry for kids of all ages.
Release date :

1st April 2009
About the Illustrator
Illustrator : Dee Texidor
Dee Texidor is a freelance graphic designer and illustrator. Her work has appeared in more than 30 books, and is specially noted for its edge of wit and originality. You can find her on Facebook @heyshortiestudio.
READ MORE

ABOUT THIS ILLUSTRATOR
There are no reviews of this book, why not be the first to leave us your thoughts
Other books you may also be interested in