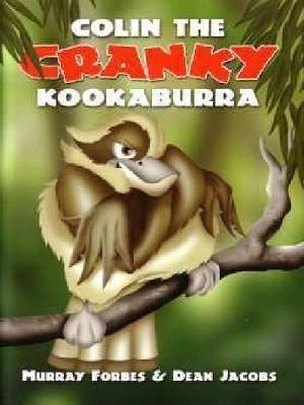 Colin the Cranky Kookaburra
Author

: Murray Forbes
Illustrator

: Dean Jacobs
Age :

3 - 6 years
A unique and iconic part of Australian bush life, kookaburras are famous for their loud, laughing call, echoing across the countryside.
But is it possible that there was a time, long ago, when they didn't laugh; or indeed weren't allowed to laugh?
Release date :

1st October 2009
About the Illustrator
Illustrator : Dean Jacobs
Dean Jacobs has always had a great love and interest in drawing and he hoped one day to turn his passion into a profession. Starting with sketching famous people, he moved onto oil painting and then inevitably into digital computer illustration, where he now uses airbrush techniques to create his distinctive illustrative style. Dean studied Art and Design at the Sunshine Coast University and has worked as a Graphic Designer for a number of years. Dean has just completed his first two major children's books, 'Colin, The Cranky Kookaburra' and 'Poor Little Dino Spark'. Dean's wife, Kylene, also a designer, is currently working on her first...
READ MORE

ABOUT THIS ILLUSTRATOR
There are no reviews of this book, why not be the first to leave us your thoughts
Other books you may also be interested in