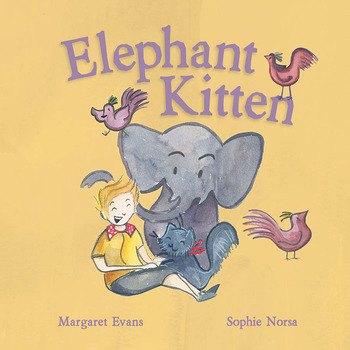 Elephant Kitten
Author

: Margaret Evans
Illustrator

: Sophie Norsa
Age :

3 - 6 years
'Toby would have liked a big strong elephant, but he was given a small, fluffy kitten.'

Towser is a kitten with the heart and soul of an elephant. Can his adventures make him as big and strong as one too?
About the Author and Illustrator
Author : Margaret Evans
Stories have always been integral to Margaret's life. Her childhood was spent in England during and after the Second World War, when books were scarce. However, her father told stories to his children, which gave them much pleasure and began a love for storytelling in Margaret. Her working d...
READ MORE

ABOUT THIS AUTHOR
Illustrator : Sophie Norsa
As a work experience student Sophie's exceptional artistic talents were quickly discovered by New Frontier Publishing. She was shortlisted for the Crichton Award for her illustrations in Yellow Dress Day. Her next book, Matilda Saves Santa Claus will be released in November 2013. Lisa Absolutely Lov...
READ MORE

ABOUT THIS ILLUSTRATOR
There are no reviews of this book, why not be the first to leave us your thoughts
Other books you may also be interested in