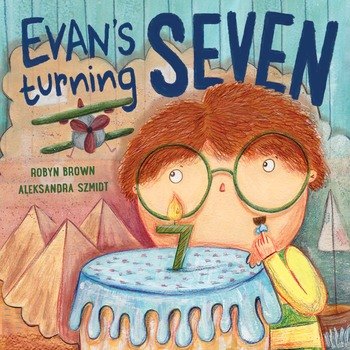 Evan's Turning Seven
Author

: Robyn Brown
Illustrator

: Aleksandra Szmidt
Age :

3 - 8 years
Evan's turning seven on Sunday and he has some brilliant ideas to make his birthday party spectacular!
His plans are so brilliant, that none of his friends believe him.
Evan is worried.
Will any of them come to his party?
Release date :

5th July 2018
About the Author and Illustrator
Author : Robyn Brown
Robyn was born in Townsville and she was raised in small Queensland country towns. There were no cinemas or television and so books, creative play, exploring and daydreams filled her world. Her love of books and reading has been with her all her life, but five years ago she had an experience that s...
READ MORE

ABOUT THIS AUTHOR
Illustrator : Aleksandra Szmidt
Aleksandra Szmidt grew up in Poland and worked as a graphic designer. She currently resides in New Zealand as a freelance illustrator. From her home studio, Aleksandra creates one-of-a-kind artwork for clients across the world. Her love of drawing plants and animals can be attributed to her landscap...
READ MORE

ABOUT THIS ILLUSTRATOR
There are no reviews of this book, why not be the first to leave us your thoughts
Other books you may also be interested in