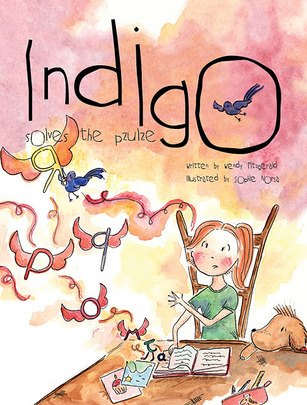 Indigo Solves the Pzulze
Author

: Wendy Fitzgerald
Illustrator

: Sophie Norsa
Age :

3 - 6 years
Indigo was diagnosed with dyslexia when she was five. Dyslexia is a condition in which the part of the brain responsible for processing symbols into words misfires. After being teased at school, Indigo enrolled in an intensive literacy program that improved her reading skills, self-esteem and happiness. Now Indigo is helping other kids like her.
About the Illustrator
Illustrator : Sophie Norsa
As a work experience student Sophie's exceptional artistic talents were quickly discovered by New Frontier Publishing. She was shortlisted for the Crichton Award for her illustrations in Yellow Dress Day. Her next book, Matilda Saves Santa Claus will be released in November 2013. Lisa Absolutely Loves Art will be released in July 2014. It will be the first book Sophie has written as well as illustrated.
READ MORE

ABOUT THIS ILLUSTRATOR
There are no reviews of this book, why not be the first to leave us your thoughts
Other books you may also be interested in