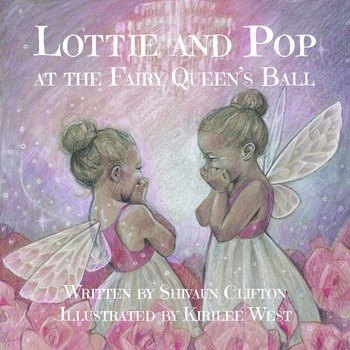 Lottie and Pop at the Fairy Queen's Ball
Author

: Shivaun Clifton
Illustrator

: Kirilee West
Age :

3 - 6 years
'At the end of the garden, underneath some rocks, was a village of fairies who lived in teapots.'
Join Lottie and Pop on their magical adventure to the Fairy Queen's Ball!
Release date :

1st February 2015
About the Author and Illustrator
Author : Shivaun Clifton
Shivaun Clifton is an ICU nurse who works in one of Brisbane's biggest hospitals. She is married with two little princesses, Charlotte (Lottie) and Poppy (Pop), who are 7 and 6. She has always encouraged the girls to believe in fairies and embrace all the magic that comes along. Having always ...
READ MORE

ABOUT THIS AUTHOR
Illustrator : Kirilee West
Kirilee West is a young nurse with a talent for lush and detailed illustrations. Having met author Shivaun, she decided to partner with her on the creation of Lottie and Pop, the first book to be published by their joint enterprise, Lottipops. Kirilee's illustrations include inspiration from c...
READ MORE

ABOUT THIS ILLUSTRATOR
There are no reviews of this book, why not be the first to leave us your thoughts
Other books you may also be interested in