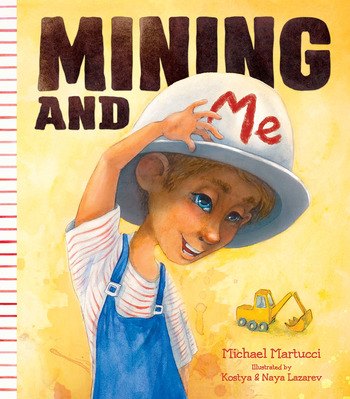 Mining and Me
Author

: Michael Martucci
Illustrator

: Naya & Kostya Lazareva
Age :

3 - 6 years
Having a dad who works at a 'fly in, fly out' mine site isn't always easy - it means he can be away for weeks at a time. But no matter how far away he is, his love is always there.
Learn all about what it's like to be a part of a mining family in 'Mining and Me'.
Release date :

15th August 2019
About the Author and Illustrator
Author : Michael Martucci
Michael 'Tucci' Martucci is the younger son out of two boys and travels weekly to a remote mine site in outback South Australia. He has been working in mining for four years as a Health and Safety Specialist following in his father's footsteps, who worked as a FIFO in the oil and g...
READ MORE

ABOUT THIS AUTHOR
Illustrator : Naya & Kostya Lazareva
Naya and Kostya Lazarev are a duo of illustrators. Their skills round each other out, creating picture books full of love and magic. As a child, Naya decided to become an illustrator of children's books. Since then she has been mastering her watercolor technique, hoping to shape people&rsqu...
READ MORE

ABOUT THIS ILLUSTRATOR
There are no reviews of this book, why not be the first to leave us your thoughts
Other books you may also be interested in