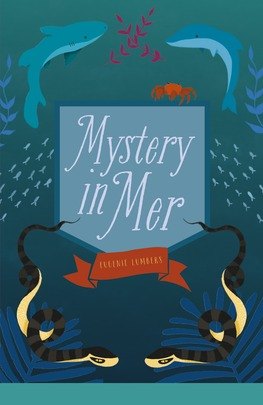 Mystery in Mer
Author

: Eugenie Lumbers
Illustrator

: Angel McMullan
Age :

8 - 12 years
Marilla and Jerry are two merfolk who live in the waters of Port Stephens, where they have many friends in the sea and on the shores.
Years ago, when she was very small, Marilla's parents disappeared.
Now she only has her grandmother to care for her.
On a trip with her dolphin friends up the east coast of Australia, Marilla learns of the mystery of Esmeralda Cove.
Convinced it involves the fate of her lost family, she is determined to solve it.
Marilla and Jerry embark on a dangerous adventure.
Release date :

1st December 2016
About the Author and Illustrator
Author : Eugenie Lumbers
Eugenie Lumbers spent many years sailing up and down the East Coast of Australia, with holidays in Broken Bay and in Port Stephens, NSW. One of her favourite places for anchoring, swimming and diving off the boat is Fame Cove. Summers just seemed to be so full of sun and sea. Obviously these waters ...
READ MORE

ABOUT THIS AUTHOR
Illustrator : Angel McMullan
Angel was born with a pencil in her hand and a slightly faulty halo around her head. Commonly mistaken for a giraffe, Angel was raised on Sydney's northern beaches and graduated from the University of Technology, Sydney with a Bachelor of Design in Visual Communications. She works both digital...
READ MORE

ABOUT THIS ILLUSTRATOR
There are no reviews of this book, why not be the first to leave us your thoughts
Other books you may also be interested in