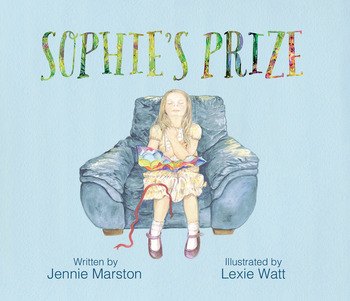 Sophie's Prize
Author

: Jennie Marston
Illustrator

: Lexie Watt
Age :

4 - 8 years
Sophie has just won $100 in an art competition.
What will she do with the money?
Will she spend it or save it?
What would you do?
Release date :

1st August 2014
About the Illustrator
Illustrator : Lexie Watt
Lexie Watt paints realistically in watercolour and inks and has won numerous awards for watercolour and drawing. Her main focus and love is the Australian landscape in all its wonderful colours. After teaching and painting porcelain art for twenty-two years, Lexie taught herself to paint in watercolour. Transparent inks and watercolour are a joy and constant source of amazement (sometimes frustrating), working in many washes and buildups. Lexie lives in the northern suburbs of Illawarra with the escarpment and ocean to enjoy every day, taking her border collie dog for walks each day to explore and appreciate all that it has to offer. Lexie...
READ MORE

ABOUT THIS ILLUSTRATOR
There are no reviews of this book, why not be the first to leave us your thoughts
Other books you may also be interested in