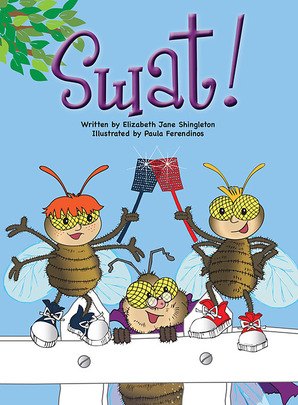 Swat!
Author

: Elizabeth Shingleton
Illustrator

: Paula Ferendinos
Age :

4 - 8 years
Itchy Ritchy and his swarm of houseflies love to feast on human filth. But there is one problem; humans hate them hanging around! Will flies and humans ever be able to live in harmony? See who gets swatted in this tale of bravery acceptance and a particularly pongy plan. Swat! contains an environmental undercurrent due to the very nature of the relationship between humans and houseflies.
About the Author
Author : Elizabeth Shingleton
Elizabeth was born in bayside Melbourne, growing up with a love of words and a passion for performance. After completing a BA (Media Studies), life steered itself towards the entertainment industry and she began work as an actor on television programs including Neighbours and Blue Heelers. Elizabeth then travelled the world, returning three years l...
READ MORE

ABOUT THIS AUTHOR
There are no reviews of this book, why not be the first to leave us your thoughts
Other books you may also be interested in