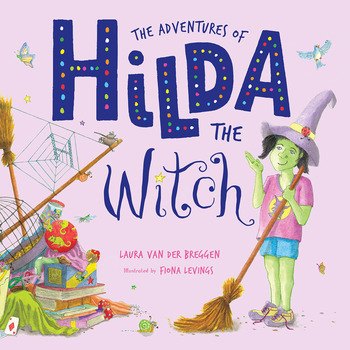 The Adventures of Hilda the Witch
Author

: Laura van der Breggen
Illustrator

: Fiona Levings
Age :

6 - 8 years
Being magical doesn't mean you can't get into trouble!
Hilda is a fun-loving 5 1/2 year old witch who just can't help getting into mischief.
Through this series of charming short stories, Hilda learns the importance of cleaning her room, looking after her pets and most importantly, listening to her mummy!
Release date :

17th October 2018
About the Author and Illustrator
Author : Laura van der Breggen
Living in the glorious Sunshine Coast in Queensland, Laura's days are usually packed with the joys of parenting her three little cherubs, taking her cheeky Labrador for long walks, chasing after their pet chooks and, of course, creating new, mischievous and cheeky Hilda the Witch stories.
READ MORE

ABOUT THIS AUTHOR
Illustrator : Fiona Levings
Fiona Levings is a Tasmanian-based author/illustrator. Mother to a beautiful, sleep-allergic child, she went for a walk late one wild and windy night and saw a moonbow. Once she'd gotten home and Googled it (to make sure that her overtired brain wasn't just seeing things), she went to ...
READ MORE

ABOUT THIS ILLUSTRATOR
There are no reviews of this book, why not be the first to leave us your thoughts
Other books you may also be interested in