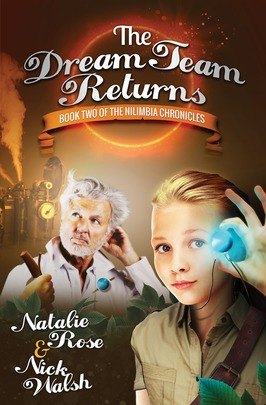 The Dream Team Returns: Book Two of the Nilimbia Chronicles
Author

: Natalie Rose & Nick Walsh
Age :

7 - 13 years
Mia and her Grandfather return to the parallel world of Nilimbia to a curious welcome by their hybrid guides. As they tour the realm they are rewarded with glimpses of grandness, moments of magic, and flashes of colourful history between Nilimbia and the Land Down Under. When Mia creates a dream to save an endangered species she is appointed Dream Weaver. The acts of a few change everything though, and a mission to prove her skills forces Mia to make some difficult decisions. Can Mia follow her heart and imagination to unite the magic of Nilimbia and bring humans and hybrids together?
Release date :

20th February 2021
About the Author
Author : Natalie Rose & Nick Walsh
Natalie is an Australian freelance writer, children's book author, illustrator and speaker. Her latest children's book, Mia's Optiscope, is soon to be available in paperback. Her current project, Dream Team Returns, the second in her Nilimbian Dreams series, will be published later this year. Natalie travelled extensively in her ...
READ MORE

ABOUT THIS AUTHOR
There are no reviews of this book, why not be the first to leave us your thoughts
Other books you may also be interested in