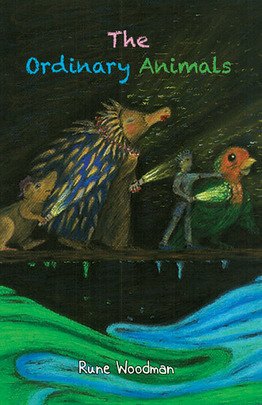 The Ordinary Animals
Author

: Rune Woodman
Illustrator

: Jyoti Di-Cola
Age :

8 - 12 years
In his last year of primary school, Albert becomes lost while escaping from bullies.
He finds himself in an underworld of storm-water drains and sewers, where he befriends an ageing rat, a small bird and a crazy echidna.
His new friends believe his visit is the fulfilment of a prophecy that he will save the animals from the control of the evil King Rat and his mistress The Witch.
All Albert wants is to get home, but secretly the animals defy his wishes and set him on course with the prophecy.
Release date :

1st July 2012
About the Author
Author : Rune Woodman
After a long career in software development, pretending he wasn't a writer, Rune Woodman decided it was time to stop hiding and write his first novel. He had expected that he might write for adults - an exciting political thriller, a murder mystery or something scandalous - but instead a boy, small for his age and running from bullies, insisted on ...
READ MORE

ABOUT THIS AUTHOR
There are no reviews of this book, why not be the first to leave us your thoughts
Other books you may also be interested in