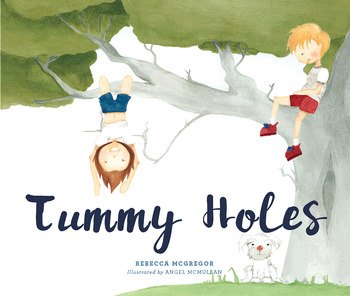 Tummy Holes
Author

: Rebecca McGregor
Illustrator

: Angel McMullan
Age :

3 - 6 years
'Many things have belly buttons, even you and me!
Innies, outies, navels and holes, just look and you will see!'

With a little imagination ... the smallest of holes can take us on the biggest adventures.
About the Author and Illustrator
Author : Rebecca McGregor
Rebecca McGregor was born in the western suburbs of Melbourne and at ve years old, moved to a small town in regional Victoria with her mum and three sisters, where the girls spent their childhood playing sports, riding horses and train-tripping down to Melbourne to visit their father. After high sch...
READ MORE

ABOUT THIS AUTHOR
Illustrator : Angel McMullan
Angel was born with a pencil in her hand and a slightly faulty halo around her head. Commonly mistaken for a giraffe, Angel was raised on Sydney's northern beaches and graduated from the University of Technology, Sydney with a Bachelor of Design in Visual Communications. She works both digital...
READ MORE

ABOUT THIS ILLUSTRATOR
There are no reviews of this book, why not be the first to leave us your thoughts
Other books you may also be interested in