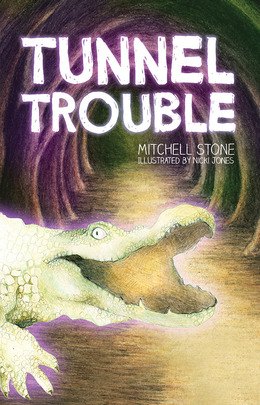 Tunnel Trouble
Author

: Mitchell Stone
Illustrator

: Nicki Jones
Age :

7 - 10 years
The second instalment for The Secret Tunnel series!
The teacher's pet is missing.
Not an annoying, nerdy student... the teacher's actual pet, Rex!
Had they known that searching for Rex would place their lives at risk, Sophie and Edward would have continued playing handball.
But they didn't know, and the many haunting perils beneath the school await...
Release date :

1st August 2015
About the Author
Author : Mitchell Stone
After discovering an old, abandoned war tunnel underneath a school, Mitchell Stone swallowed his fear in one gulp and climbed down. Creeping through the spider webs and over the bones, he found a room with eerie, haunting yellow eyes glaring back at him. This chance encounter became the catalyst for Mitchell's stories. Tunnel Trouble is Mitch...
READ MORE

ABOUT THIS AUTHOR
There are no reviews of this book, why not be the first to leave us your thoughts
Other books you may also be interested in