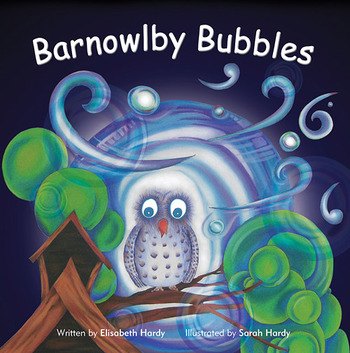 Barnowlby Bubbles
Author

: Elisabeth Hardy
Illustrator

: Sarah Hardy
Age :

3 - 6 years
Baby owl's magical bubble blowing brings order to the lives of his farmyard friends, but can they find him a name?
There was oink-ing and quacking and even a neigh, as each bubble burst in its magical way.
A delightful rhyming tale, beautifully illustrated which will enchant children and adults.
Release date :

1st February 2011
About the Illustrator
Illustrator : Sarah Hardy
The kind of art that sparks the imagination. The kind of art that is the stuff of dreams. The kind of art that inspires boys and girls, and adults too. The kind of art that is whimsical, quirky and so unique you want to embrace it and make it yours. In short, much applauded artist, Sarah Hardy produces the kind of art that connects human hearts. Even her company name, PopcornBlue conjures up images that delight the imagination, and Sarah just loves to produce art in various formats, from high quality archival art prints, to magnets, stickers, cards and original artworks. As a senior graphic designer and illustrator, Sarah is a...
READ MORE

ABOUT THIS ILLUSTRATOR
There are no reviews of this book, why not be the first to leave us your thoughts
Other books you may also be interested in