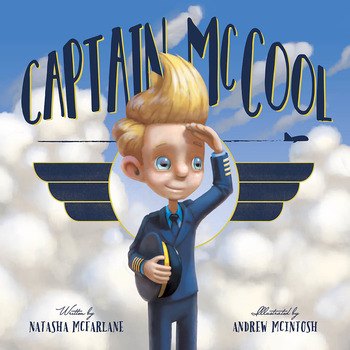 Captain McCool
Author

: Natasha McFarlane
Illustrator

: Andrew McIntosh
Age :

6 - 8 years
Young Josh McCool dreams of one day becoming a pilot! After failing his first attempt to fly, he meets a group of like-minded friends and together they learn all about the aviation industry.
Release date :

1st July 2019
About the Author and Illustrator
Author : Natasha McFarlane
Based in Adelaide, Natasha is a mother of two and a first time children's book author. Having spent 15 years in the aviation industry, she experienced firsthand the fascination that people of all ages and backgrounds have with flying. From the aircraft themselves, the staff that crew them, a...
READ MORE

ABOUT THIS AUTHOR
Illustrator : Andrew McIntosh
Andrew McIntosh is a part time digital illustrator from Melbourne, Australia. Ever since Andrew can remember, he has had a pencil and paper on hand. He started his artistic career in the video games industry focusing on Pixel art, 3D modelling and UI design. In his spare time, Andrew paints whimsica...
READ MORE

ABOUT THIS ILLUSTRATOR
There are no reviews of this book, why not be the first to leave us your thoughts
Other books you may also be interested in