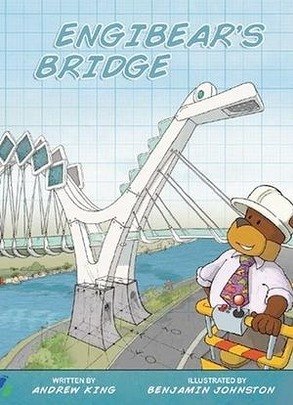 Engibear's Bridge
Author

: Andrew King
Illustrator

: Benjamin Johnston
Age :

3 - 8 years
The children at Munnagong Flats Public School decide on a dinosaur design for their new bridge.
It's a big job so Engilina, the city's Chief Engineer, asks her friends Engibear and Bearbot, for some help.
Follow the team as they work through the year to create a roar-inspiring attraction.
Release date :

1st October 2014
About the Author and Illustrator
Author : Andrew King
Dr Andrew King has qualifications in Chemical Engineering and Environmental Engineering and he is passionate about the integral role of engineering in environmental management and sustainability. Andrew really enjoys his family life and dreaming; Engibear was created while playing with his children ...
READ MORE

ABOUT THIS AUTHOR
Illustrator : Benjamin Johnston
Benjamin Johnston works as a mild-mannered architect by daytime and a masked illustrator by night ... and he is looking forward to the day he might actually have enough time for everything he wants to get done. Drawing and illustrating for children has always been his passion. He is the illustrator ...
READ MORE

ABOUT THIS ILLUSTRATOR
There are no reviews of this book, why not be the first to leave us your thoughts
Other books you may also be interested in