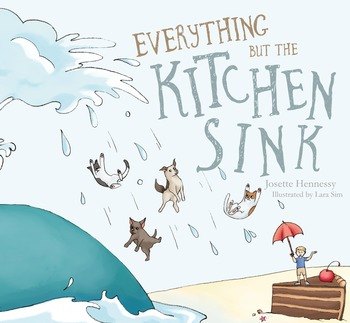 Everything but the Kitchen Sink
Author

: Josette Hennessy
Illustrator

: Lara Sim
Age :

3 - 6 years
Will Squirt ever understand Dad's funny way of speaking?
In his quest to do so, Squirt may just discover the most powerful language of all — that of the heart.
Join a boy and his slang-slinging dad in this fun, rhyming journey through some of Australia's most popular idioms — best taken with a grain of salt!
Release date :

1st December 2016
About the Author and Illustrator
Author : Josette Hennessy
Josette was raised on a farm in Gunnedah, NSW, where she kept company with dogs, cows, and her five older siblings — not necessarily in that order. Owing to this earthy upbringing, she quickly became fluent in two languages: English and 'Australian'.It wasn't until much lat...
READ MORE

ABOUT THIS AUTHOR
Illustrator : Lara Sim
Lara Sim is a whimsical visual communicator who links vintage sentimentality with modern techniques. What began as a hobby to document the world around her developed into a career after she dived into a Diploma in Illustration in Australia, and a B.A. in Illustration in the UK. Thanks to a childhood...
READ MORE

ABOUT THIS ILLUSTRATOR
There are no reviews of this book, why not be the first to leave us your thoughts
Other books you may also be interested in