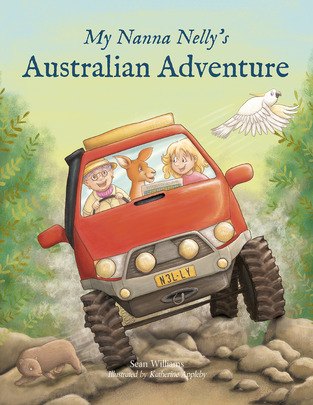 My Nanna Nelly's Australian Adventure
Author

: Sean Williams
Illustrator

: Katherine Appleby
Age :

3 - 6 years
After we finished touring the Illawarra yesterday, My Nanna Nelly's Australian Adventure is under way. We're all set to head off the beaten track, I don't know where we're going or when we're coming back. The car is packed and we're good to go. We might see you at Mintaro, Tantanwangalo or at the top of Mount Kosciusko!
Release date :

1st December 2019
About the Author and Illustrator
Author : Sean Williams
Sean Williams is a sixth generation Illawarrior, born and bred. As a child, he grew up on the northern side of McCauley's Hill in the coastal town of Thirroul. Attending Thirroul Public School and Bulli High School until he was 14, Sean left early and worked as a butcher in di erent areas of...
READ MORE

ABOUT THIS AUTHOR
Illustrator : Katherine Appleby
Katherine Appleby is an illustrator, artist and designer inspired by nature and intrigued by the endless possibilities of human imagination. She works across multiple artistic disciplines, including watercolour, acrylic and digital mediums, to create work that is meticulous, whimsical and colourful ...
READ MORE

ABOUT THIS ILLUSTRATOR
There are no reviews of this book, why not be the first to leave us your thoughts
Other books you may also be interested in