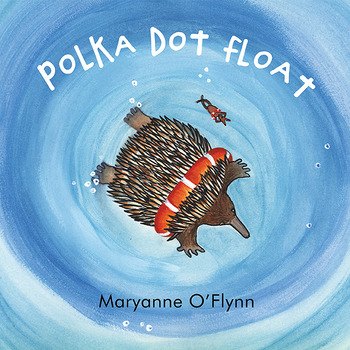 Polka Dot Float
Author

: Maryanne O'Flynn
Illustrator

: Maryanne O'Flynn
Age :

3 - 6 years
Polka Dot is an echidna who wishes to swim, but all she can do is float!
When a fire threatens the bush and her friends, Polka Dot discovers the value of her newfound ability.
Release date :

1st May 2015
About the Author and Illustrator
Author and Illustrator : Maryanne O'Flynn
Maryanne grew up in a large farmhouse in Palmwoods Qld, with her 11 siblings. She spent many days playing down in the creek, catching tadpoles with her mothers Tupperware. And riding motorbikes with her brothers. She always loved to draw and would fill in the sides of her school books with doodles, leaving them messy and hard to read. After leaving high school she studied to be a Nurse. She loved Nursing but had always dreamed of becoming an Illustrator. After spending lots of time with her grandmother In Rockhampton, QLD, Maryanne became interested in the art of story telling. Her grandmother would tell wonderful stories of her past, that se...
READ MORE

ABOUT THIS AUTHOR AND ILLUSTRATOR
There are no reviews of this book, why not be the first to leave us your thoughts
Other books you may also be interested in