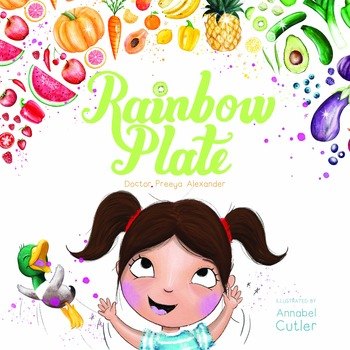 Rainbow Plate
Author

: Preeya Alexander
Illustrator

: Annabel Cutler
Age :

3 - 6 years
Make healthy eating and a diet rich in fruit and vegetables fun, engaging and magical for children by putting a rainbow on their plate! Enjoy this adventure in healthy eating with Rainbow Plate!
Release date :

1st November 2019
About the Author and Illustrator
Author : Preeya Alexander
Dr Preeya Alexander is a medical doctor working as a GP based in Melbourne with a passion for all things 'prevention' in medicine. She also works as a medical educator at Eastern Victoria GP Training where she assists in the education of training GPs. Preeya is a regular commentator on l...
READ MORE

ABOUT THIS AUTHOR
Illustrator : Annabel Cutler
Annabel Cutler is an artist, student and the illustrator and author of Saffy and the Sneaky Secret Summoning, which marks her children's book debut. Annabel is currently studying for a Bachelor of Communications Degree at University of Technology in Sydney and has completed a certificate in I...
READ MORE

ABOUT THIS ILLUSTRATOR
There are no reviews of this book, why not be the first to leave us your thoughts
Other books you may also be interested in