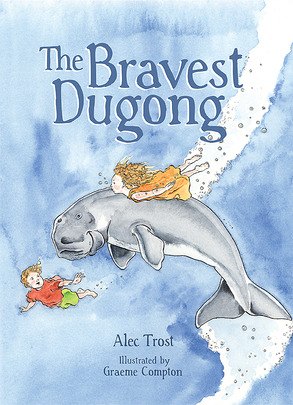 The Bravest Dugong
Author

: Alec Trost
Illustrator

: Graeme Compton
Age :

3 - 6 years
Brave Charlie D is a dugong who lives in Australian waters with his large family. One day he bids goodbye to all his relatives, and sets off on an adventure to discover new worlds and learn new skills – the most courageous dugong of them all! A picture book told in rhyme.
About the Illustrator
Illustrator : Graeme Compton
Graeme is a visual artist and illustrator. He was born in Narrabri, Northwest NSW. He has loved drawing since childhood. He works from home and has a busy practice, completing commissions for portraiture and illustrations for children's books. Graeme's subjects and styles are broad, from fierce dragons to happy humans, one-eyed chooks to piano-crunching pachyderms, rendered in graphite, ink, charcoal, acrylic or pixels. He has twice been a finalist for portraiture in the Mortimer Prize for Realism (2011-2012) and received the Grand Champion award for his work 'Egret on Tap' in the Gunnedah Art Exhibition 2013. From...
READ MORE

ABOUT THIS ILLUSTRATOR
There are no reviews of this book, why not be the first to leave us your thoughts
Other books you may also be interested in