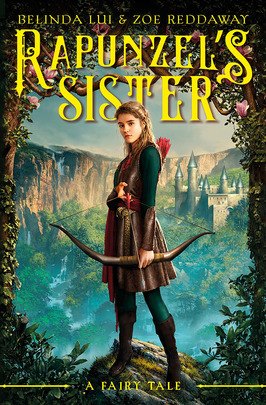 Rapunzel's Sister
Author

: Belinda Lui & Zoe Reddaway
Age :

12+ years
You know the story of Rapunzel... but did you know that she had a sister?
Princess Miri of Magnolia Kingdom uncovers a startling secret. She has an older sister she's never been told about! This discovery unravels a dark past that has plagued the kingdom for years. Determined to find her sister and bring her home, Miri embarks on a daring journey against all odds to save her and defeat the witch once and for all.
Release date :

17th October 2018
About the Author
Author : Belinda Lui & Zoe Reddaway
When she was in year 5, Zoe drew a picture of a girl with long hair in a tower, but instead of labelling it as Rapunzel, she wrote down 'Rapunzel's Sister'. She showed it to her mum and the story started to blossom. They wrote the book together, with Zoe illustrating a few of the characters so that her mum could describe them. Performance arts is ...
READ MORE

ABOUT THIS AUTHOR
Guess who dressed up as Miri for Book Week?!
Hi there, Monica's mum here (otherwise known as Christine). Thought you guys might be chuffed to know that the author's talk at St Joseph's (Hawthorn) primary school earlier this year lead us to buy the book, and pull together a costume for Book Week! It's happening this Thursday, with a big parade of all the students.

Reply with an email address/mobile number if you or the authors would like a pic? We loved the book!

Cheers Christine.
Monica Kovacevic
- 20th August 2019
Other books you may also be interested in