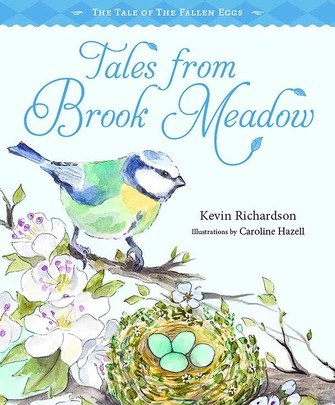 Tales from Brook Meadow: The Tale of the Fallen Eggs
Author

: Kevin Richardson
Illustrator

: Caroline Hazell
Age :

6 - 8 years
The animals of Brook Meadow always come together when one of their friends are in need. When Barry the Blue Tit's eggs fall out of his nest, he enlists the help of his friends - Felicity and Wilson, the water voles; Victor, the fox; Vincent and Jeremy, the field mice. Together they set to work finding Barry's eggs and restoring them to safety.
Release date :

17th June 2019
About the Author and Illustrator
Author : Kevin Richardson
Kevin's debut book series, 'Tales from Brook Meadow', grew out of a lifelong passion for the environment and desire to teach others the importance of respecting the world around us. 

 Kevin's love of the outdoors started as a small child in southern England, where he would regularly fish ...
READ MORE

ABOUT THIS AUTHOR
Illustrator : Caroline Hazell
Since the age of seven, Caroline spent her Saturday mornings sketching with her mum at the dining room table. A portrait artist herself, she taught Caroline blending and shading and introduced her to a variety of mediums and techniques that were well beyond her years. Caroline has been drawing ever...
READ MORE

ABOUT THIS ILLUSTRATOR
Such a beautiful book, and absolutely loved by t h e grandchildren. So lovely to read a book which encourages love and care of the environment and eachother.
Looking forward to the next book in the series.
Deborah Goble
- 6th November 2019
---
Tales from Brook Meadow
One of the loveliest books a parent could buy for young children, easy to read, elegantly illustrated, and capturing completely the importance of caring for each other .A lesson well taught for life!
Margaret Grant
- 29th October 2019
---
Beautifully Written and illustrated
What a great story combining a love of nature and the outdoors with meaningful messages. Beautifully written and illustrated.
Mike
- 29th September 2019
---
My children's favourite book this year
Beautiful story about friendship, my daughter is only two and loves my 10 year old reading this book to her.( Victor is his favourite character)
Especially love the script at the back of the book about caring for the environment and all things Mother Nature
Zoe Blair
- 24th September 2019
---
Tales from Brook Meadow
Absolutely beautiful book with a very eloquent message of helping others and caring for the environment. Illustrations were also beautiful and just right for this lovely story.
Joan Ness
- 1st August 2019
Other books you may also be interested in