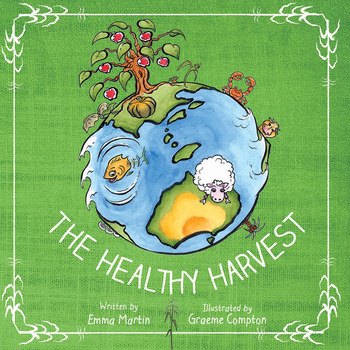 The Healthy Harvest
Author

: Emma Martin
Illustrator

: Graeme Compton
Age :

3 - 8 years
With the help of Harry Harvester and his friends - Alfie Apple, Carly Carrot, Charlie Cheese, Wally Wheat, Sammy Salmon and Tommy Takeaway - children will learn the importance of each food group, where food comes from, the nutrients they provide and how much they should consume to get the maximum health benefits for their growing bodies.
Release date :

1st August 2014
About the Illustrator
Illustrator : Graeme Compton
Graeme is a visual artist and illustrator. He has loved drawing since childhood. He works from home and has a busy practice, completing commissions for portraiture and illustrations for children's books. Graeme's subjects and styles are broad, from fierce beasties to happy humans, rendered in graphite, ink, charcoal, acrylic and pixels. He has twice been a finalist for portraiture in the Mortimer Prize for Realism (2011-2012) and received the Grand Champion award in the 2013 Gunnedah Art Exhibition. Graeme is currently working on an exhibition of his fantasy works. His Facebook page is @artgracom.
READ MORE

ABOUT THIS ILLUSTRATOR
A favourite with all children!
A great book on nutrition for littlies! As a teacher from K-12 with 42 years teaching experience, I recommend this educational, fun and delightful book.
Greta Martin
- 19th August 2020
Other books you may also be interested in