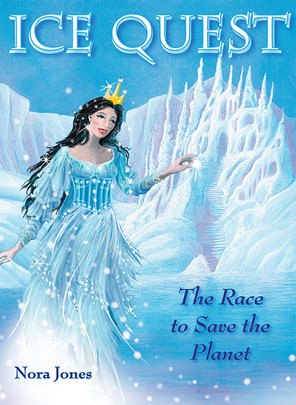 Ice Quest: The Race to Save the Planet
Author

: Nora Jones
Illustrator

: Cath Chegwidden
Age :

4 - 8 years
Isandra, the Ice Queen, lives in a beautiful Ice Palace.
When she is kidnapped by Serena, the Sun Goddess, the Earth's atmosphere goes into turmoil.
Isandra must be returned to the palace so that the world's weather can be stabilised.
Will the planet be saved?
Release date :

1st November 2008
About the Illustrator
Illustrator : Cath Chegwidden
Cath Chegwidden has had a gift for illustration all her life. This passion and gift initially led to training to become a professional secondary school art teacher at Newcastle University. Her teaching career grew to encompass the Creative and Performing Arts as well as Visual Art, and she was a Head Teacher in this field for twenty-five years. Due to illness she left teaching, and art became her sole focus. She honed her skills in exhibitions and commissioned works, particularly with murals for various medical facilities and institutions. Her gift she sees as a God given one which has been a wonderful blessing to those who are in stressed...
READ MORE

ABOUT THIS ILLUSTRATOR
There are no reviews of this book, why not be the first to leave us your thoughts
Other books you may also be interested in